Plumber price
How much does it cost to plumb a house? Plumbing prices depend on the house. The costs depend on the distance of connection points, terrain, house plan, and number of stacks. The price of plumbing for a new structure for an average family house amounts to roughly NGN180,000 - NGN300,000 for first and second stage installations. This cost is for labor only excluding plumbing materials. The price of replumbing a small bathroom, which includes the cost of materials, would be around NGN25,000. For minor works, such as installation of bathroom fixtures it usually depend on th extent of work that is required.

Who should you entrust with plumbing work? Send an enquiry to relevant plumbers in your area with reviews, free of charge and no strings attached! All you need to do is fill in the form below.
Average Cost of Plumbing Installations
The cost of plumbing installations. The cost of roughing-in and finishing works for plumbing installations for a new building.

VERY LOW PRICE

MIDDLE PRICE

HIGH PRICE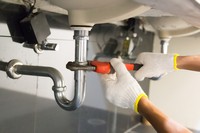 Emergency plumber
How much does plumbing work cost? The cost of minor plumbing work, such as unclogging and repairs, ...
Check also:
Emergency plumber price
Daibau magazine
Receive the best tips, ideas and insights in top designs every month for free!
Plumber - everything you need to know
1. Must-knows about plumbing work
1.1. First off: a sound plan
Before the beginning of construction or renovation work, and any work for that matter, you need a detailed and precise plan. When it comes to plumbing work, the most practical arrangement is one where all rooms with water drainage (e.g. kitchen, bathroom, toilet room, laundry room, etc.) are placed next to each other or one above another. This will help reduce the number and length of pipes, which will in turn cut material costs. Besides cutting costs, there are other advantages, too; pipes will be shorter, and so will the joints, so the whole system will work better and will be more easily maintained, plus any subsequent repairs, replacement, and adaptations will be much easier. Also, when all damp rooms are in a line, theres less noise.
1.2. Noise and echo reduction
To minimize noise and prevent its transmission during use of plumbing, its important that:
1. Installations have the right dimensions and be straight, with as little direction changes as possible,
2. Pipes be fixed to the walls,
3. Pipe clamps and brackets be made of an elastic material, which wont pass the vibrations on to the wall,
4. Pipes be insulated with a lightweight elastic material.
1.3. Water drainage
Drains used to be made of lead and their lifespan was shorter (40–50 years). Their lifespan is additionally shortened by abrasive cleaning agents, so you should definitely replace them during renovation works. Today, drains are made of plastic, making them far more durable and resistant. PVC pipes should always be laid with a 1% slope per running metre, i.e. 2–5 cm per every 2–5 m of pipes. The flow rate wont be good if this slope is higher or lower than this. If its higher, water will flow, but deposits wont, which will eventually lead to clogs. If piping is laid vertically, everything will fall onto the bottom due to gravity, so its best if you install a one-eight bend, although a quarter bend ensures an optimal flow, and its also the easiest to clean because its the easiest to reach.
1.4. Pipe couplings
Pipes made of cast iron or lead arent rare in older houses and buildings. Lifespan of cast iron is longer than 150 years, so should you run into such piping, dont replace it. However, when you connect these with PVC pipes, you should use special couplings and tapes with resin adhesive to seal them. With new builds, we recommend installing only one T-branch and vent. A vent with a diameter of at least 7.5 cm releases the vacuum in pipes. Without a vent, the vacuum would suck the water out of the trap, while the build-up would remain and the smell would spread around. Due to the height of the connection to the stack in older houses and buildings, its not easy to move your toiler since the slope has to be at least 2%. This can be solved by mounting the toilet on the wall rather than floor, thus achieving the correct slope.
2. Professional and proper installation
In new builds, plumbing is constructed based on detailed design documentation, as part of mechanical installations. To update installations in an old house or building, you dont need such documentation or any permits. Whats important is to hire an experienced plumber who will know how to install plumbing and drains properly and efficiently. Once theyve inspected everything, theyll give you a bill of costs with all details about the work execution.
3. Types of plumbing
In the period after WW2 up to the 90s, plumbing was galvanized and its lifespan was approximately 50 years. Today, most people use plastic-aluminium composite pipes, which comprise three layers of aluminium and three layers of plastic. Their lifespan is longer and water running through them is cleaner, since there is no corrosion. Another advantage of these pipes is that theyre simpler and quicker to install. Recent years have seen a rise in installation of stainless steel pipes, especially in more challenging buildings. These are high in quality and can be used for various purposes, e.g. drinking water, heating, gas, etc.
4. Installation of plumbing
4.1. Preliminary works
The so-called roughing-in for plumbing installations begins after the work on bearing walls, plastering, floor slabs, and cement screed has been completed. In case of mechanical plastering, installations are laid in the first, thinner layer, right after the walls have been built. The walls are marked at the height of 100 cm above the final floor level. We recommend the floor be thick at least 15 cm since today, most installations are built inside it (underfloor and radiator heating, electrics, etc.). The next thing you should mark is the exact position of all fixtures (the toilet, washbasin, shower stall, bath, bidet, washing machine, dishwasher, etc.), as this arrangement is important for laying piping and connections to the mains. This is especially important if you want to install a concealed cistern, hung toilet, and some types of washbasins.
4.2. Laying pipes and connection to a public water main
Home installations are usually connected to a public water main and sewer network. Water metres lie somewhere between the lines and connections. Relevant regulations say that they can be placed inside a recess in the wall, pit in the yard, or a manhole. Such manholes have a suitable cover. Plumbing and drains are laid along the walls or on the floor. Roughing-in includes laying of drains and hot and cold water pipework. Laying of pipes includes two important principles: each sanitary fixture is connected to the main sewer with a single pipe and all sanitary fixtures are connected to one pipe, with the return pipe leading to the drain. In multi-storey buildings, each floor has its own drain and water metre.
In-wall and underfloor pipes are placed inside corrugated tubes. In case of any failure, they can be replaced even if the house/building is already constructed, but there has to be an access to the pipe joint, i.e. the box and drain. Water drainage and supply pipes are fitted simultaneously. Drainage pipes must include a vent that goes through the roof and outside the house. At this stage, concealed cisterns and wall-hung toilet and bidet brackets are installed. If sand filters and a pressure relief device can be installed at this point, too, that would be great. A pressure relief device, i.e. a pressure balancing valve is an aerator and it significantly reduces noise. Once all the work is completed at this stage of roughing-in, the next steps are a water supply pipeline pressure test and leak testing for drainage pipes.
4.3. Finishing plumbing works
After plastering is completed and floor and wall coverings are laid, sanitary fixtures should be installed. The toilet, bidet, washbasin, bath, etc. are laid first, while the sink, washing machine, and dishwasher come last.
Daibau community is helping you with cost estimates, tips, information and selection of the right contractor for your home
Last posted inquiries
i need a plumber
Pumping machine working but not pumping water 0.198 ₦ to 0.33 ₦
........
plumbing system
I need to attend to some plumbing work 0.099 ₦ to 0.165 ₦
........
Clearing of blocked underground pipes
Due to flooding, we want to clear the blocked underground pipes and make the through. 0.099 ₦ to 0.165 ₦
........
Price, Plumbing project in a house, 150 m2
Plumber, Ikeja

900 ₦ to 1500 ₦


Price, WATER PUMP,
Plumber, Abuja

45 ₦ to 75 ₦


Price, I need to fix a toilet, 1
Plumber, Ogba Aguda

45 ₦ to 75 ₦


Check other completed projects and prices