Roofing sheets, tiles, shingles price
How much does installation of roof coverings cost? Roof covering installation prices may vary dramatically. The average price of roofing is between NGN50,000 and NGN80,000/unit for a regular familly house, this price is for installation of roofing sheets without materials and carpentry work. The deciding factors are size, structure, eaves, and of course the roofer. Total costs will also depend on whether you'd like to build a new roof or renovate an existing one, given that repairs include removal and disposal of waste materials. The roof complexity also plays a significant role—the more sloping surfaces and ridges, the more challenge for the roofer.

Who should you entrust with installation of roof coverings? Send an enquiry to relevant roofers in your area with reviews, free of charge and no strings attached! All you need to do is fill in the form below.
Average Cost of Roofing Jobs
The cost of roofing work. The cost of building a standard roof from start to finish, including all carpentry, sheet metal, and roofing works, as well as the procurement and installation of a metal roof covering.

VERY LOW PRICE

MIDDLE PRICE

HIGH PRICE
Average Cost of Roofing Jobs, Labor-Only
Labor cost of building a standard roof from start to finish, including all carpentry, sheet metal, roofing works, and installation of a metal roof covering. This is labor cost without materials for a 3 bedroom bungalow.

VERY LOW PRICE

MIDDLE PRICE

HIGH PRICE
Other prices for Roofing sheets, tiles, shingles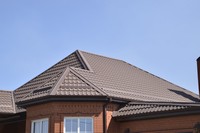 Roofing, roofer
How much do a roof and roof structure cost? The price of a roof primarily depends on the material (b...
Check also:
Roofing, roofer price
Thatched roofs
How much does a thatched roof cost? A thatched roof isn't exactly a feasible solution nowadays, as i...
Check also:
Thatched roofs price
Daibau magazine
Receive the best tips, ideas and insights in top designs every month for free!
Roofing sheets, tiles, shingles - everything you need to know
1. Roof coverings - what do you need to know?
1.1. The function of a roof covering
Every house must have a roof covering. It is the final layer of the roof and protects the roof structure, and therefore the entire house, from the elements and possible damage. It provides shelter from wind, and rain, but also insulates the building, preventing your rooms from heating up or cooling down too quickly. Logic decrees, therefore, that the roof structure and roof covering are crucial construction elements and selecting the right type is vital when it comes to the quality, protection, and longevity of a building. There are several factors to consider when choosing the type of roof covering – the pitch of the roof, the architectural design, and your budget. Of course, with numerous roofing systems available on today's market, architects have a whole plethora of options open to them.
1.2. Contemporary materials
As technology has advanced, so too has the production of roofing materials. If the roof was once considered the weak spot of a house, highly susceptible to damage and collapse, today this is no longer the case. You can opt for clay tiles, concrete, fibre cement sheets, metal roofing panels, or bitumen. For certain geographical areas, and also for those who love tradition, experts advise the use of wood shingles. All modern materials are resistant to damage and the elements and meet the highest protection requirements and construction standards. Equally important is the fact that they differ in terms of price, eco-friendliness, durability, weight, and suitability for different pitches of roof, so you can always find the best solution for your home.
1.3. Roof aesthetics
There is good reason for the roof being known as the fifth facade. If we're talking about a house with a sloping roof, the roof is clearly visible from afar – in fact, there's no better view of it. Hence why it's important that, in addition to serving a practical purpose, the roof also has the right aesthetic and is a stylish addition to the home and its surroundings. When choosing the roofing material, it's not only the technical characteristics and price that should be taken into consideration (although these are the main criteria), but also its appearance.
2. Roofers - the experts in roof coverings
2.1. Why entrust the job to a professional
Building a roof and installing a roof covering is a demanding and incredibly dangerous job. The steeper the roof, the more numerous the hazards are, for the contractors themselves and in terms of the possibility of damaging the roof. Professional roofers have all the necessary safety equipment, which protects them in the event of slips or falls – something amateurs usually do not have. Another reason it's better to leave the installation of the roof covering to the professionals is that you will have peace of mind that the work is being done properly. The covering must be positioned with precision and the bindings and connectors must be installed correctly. If not, the roof may leak or collapse. Hiring professionals means the work will be completed properly and on time and any defects will be rectified within the warranty period. If you don't, then you'll have no-one to complain to or to claim compensation from. What's more, a professional roofer will come back later for any maintenance or repair work.
2.2. How to find a good roofer
Precision is the hallmark of a quality roofer. He will warn you of any problems he might encounter during the work; in other words, he won't try to cover up mistakes or keep quiet about any problems he comes across. He'll guarantee the quality of the work, will always use safety equipment, will adhere to deadlines, and if you aren't sure which products to choose, he will advise you on the best solution for your roof.
3. Types of roof covering
3.1. Clay tiles
One common roof covering are clay tiles, made from baked clay. Since they are made from a natural material, the tiles are environmentally friendly, sustainable, and 100% recyclable. Clay is also a porous material, so it absorbs moisture and then releases it into the atmosphere, meaning this kind of roof 'breathes'. Clay tiles are available in several finishes: the surface can be natural (pure baked clay only), glazed (glossy), or engobed (matt). A glaze is applied to the surface before baking and provides a protective layer, although it doesn't adhere to the surface in the same way as when the tile is baked with an engobe. Glazes and engobes reduce the natural absorption of the clay somewhat, which in turn diminishes the risk of the roof collapsing from the added weight from precipitation. It also means the roof dries faster and stays clean for longer. This finishing coat makes these tiles resistant to UV rays and chemicals (acids and bases). Clay tiles are also non-combustible and frost-resistant. In terms of aesthetics, manufacturers offer a wide range of colours (from traditional red and orange to shades of brown), shapes, and interlocking systems, suitable for all pitches of roof.
3.2. Sheet metal panels
Sheet metal panels are a modern material and are becoming increasingly popular on residential buildings. Metal roofing provides exceptional resistance to adverse weather conditions, sudden changes and fluctuations in temperature, etc. To achieve this, the metal must of course be protected against corrosion or rust, as is the case today with all roofing materials. For the most part, materials such as aluminium, copper and steel are used for roofs. A sheet metal roof has an extremely long life expectancy and with its unique appearance gives a house a special charm, radiating modernity. The only disadvantage of metal roofing is that water and condensation can sit on its surface, which accelerates the growth of algae and moss; however, this can be successfully combated with algicides. Sheet metal panels can be installed on all roofs, from flat ones to those with a 90° slope.
3.3. Concrete
Concrete roof coverings are no longer so common despite it being an excellent roofing material. Architecturally speaking, this type of roof covering is highly coveted. It is functional and aesthetically quite unobtrusive because it fits well into the environment and suits virtually every type of house. It is made of water, cement, and an aggregate, and a pigment that changes the colour of the roof covering can be added to the mixture. Concrete tiles or blocks are suitable for roofs with a slope of 18-45°. Concrete roofing is resistant to heat, humidity, and frost, while its greatest weakness, and the strongest argument against it, is that it is very heavy, which affects the entire roof structure. This means that not only the roof structure, but also the structure of the entire building must be adapted to support this greater weight.
3.4. Polycarbonate panels
Polycarbonate panels are made from a plastic polymer and are best known for being used in the construction of greenhouses. In recent years, they have also been used as roof coverings, albeit in a slightly different format. Polycarbonate panels have numerous advantages. The main one is, of course, the transparency of the material, which means that natural light can flood in through it. On the flip side, however, it can become unbearably hot during hot seasons, something that must be counteracted using blinds, shades, or ventilation. Finally, a PVC roof is the most lightweight covering of all, so it puts little pressure on the roof structure. As such, it is recommended for all roof types, from 0 to 90°.
If you do go for a polycarbonate or PVC roof covering, we recommend smaller-sized panels (30x30 cm) as larger panels are prone to crack when they get too hot. The plastic heats up considerably when exposed to the sun, leading to the uncontrolled stretching of the material, which might result in cracking. An additional negative characteristic of these panels is that they are maintenance-heavy; they get dirty quickly and are prone to algae and moss growth. In addition, they are not UV resistant and change colour over time.
3.5. Fibre-cement sheets
Fibre-cement sheets are a lightweight roofing material. This type of roof is a lot lighter than one covered in clay tiles. Such a roof covering is suitable for roofs with a slope of more than 15°, but if you choose corrugated panels, they can also cover flatter roofs, with a minimum slope of 7°.
3.6. Wood shingles
Everyone has seen them at least once: roofs covered in small wooden tiles – wood shingles, a traditional roofing material in many parts of the world. They are particularly durable even in the harshest of weather conditions, whether it be cold during rainy season or the heat and hail storms of the summer. Wood shingles have stood firm against everything that has been thrown at them for centuries. These wooden tiles can withstand huge temperature fluctuations as they have high elasticity. They are also relatively light (compared to clay tiles) and, above all, are eco-friendly. They are 100% recyclable because they are made from a natural material, i.e. wood. The shredded fibres on the shingles act as micro-channels, along which water flows off easily and quickly.
Wood shingles are traditionally used in mountainous areas. In such regions, raon and cold is common and as such roofs are steep (45-60°). These wood tiles are designed for such slopes and are therefore the most efficient roof covering in such conditions regardless of the emergence of new materials and roofing systems. This is also why wood shingles are not suitable for slopes under 20°. They are often made from local conifers, including larch, spruce, and fir. The resin produced in these trees provides natural protection for the wood and resistance to the elements.
3.7. Bitumen
The most common material for covering flat roofs is bitumen. It is an artificial material and is also used for waterproofing. Customers most often opt for a bitumen covering with a protective layer of shale, which comes in the form of a roll. Although it is most commonly found on flat roofs, this covering is suitable for all pitches, even the steepest slopes. Such roof coverings are available as rolls or asphalt shingles, which are mainly used for sloping roofs. They are highly waterproof and also resistant to extreme weather conditions. In addition, they are affordable and new colours and dimensions (especially when it comes to asphalt shingles) are constantly appearing on the market, meaning that they can fit with any design.
4. Types of roofs and slopes
4.1. Categorisation of roofs by slope
Roof slopes are divided into three categories: roofs without a slope (flat), roofs with a standard pitch, and roofs with a steep slope. Flat roofs are those that have a slope of 5° or less. No flat roof is completely flat, otherwise water would just sit on it. Therefore, they slope by at least 2° so water can flow off them. Roofs with a standard pitch are those with a slope of 5-30°. However, if the slope is greater than that, they are classed as steep roofs. The pitch of the roof is important because it affects not only the type of covering that can and should be used, but also the dimensions of the individual elements. For a flat roof, it is recommended that the largest dimensions of the chosen roof covering be used, while it is the opposite for steep roofs – they should be covered using elements that are as small as possible.
4.2. Flat roofs (2-5°)
For flat roofs, a good drainage system is the most important factor. As such, it is vital to use a roof covering that will allow this. Since the joins and overlaps between the individual elements of the roof covering are the most vulnerable areas, the entire surface should be covered with as few elements as possible and hence each individual element should be as large as possible. This is why bitumen is the best covering for flat roofs as the individual rolls are large in size. If a flat roof has slightly more of a slope, a sheet metal covering is also suitable, especially if it is trapezoidal or corrugated, which water drains off easily.
4.3. Standard pitched roofs
In the case of a sloping roof, there is a wider choice of roof coverings available than for a flat roof. For roofs with a slope of 5° or more, sheet metal is suitable. In the case of roofs with a slope of 10° and more, metal sheeting with a granulated-stone topcoat can be used, but if the roof is steeper than 20°, then clay tiles are better. Concrete tiles or blocks are suitable for roofs with a slope of 20-45° and fibre-cement sheets for slopes of 15° and more.
4.4. Steep roofs
As a general rule, the size of the individual elements decreases proportionally to the increasing pitch. The steepest roofs are found mainly in mountainous areas, where there is a lot of cold and a lot of rain and hail in the summer. Steep roofs have two advantages in such regions: they shed the snow faster and they provide excellent drainage. Metal sheeting can be used for steep roofs as it is usually suitable for all slopes up to 90°; in addition, clay tiles may be suitable, but only for slopes below 60°. If you want to use clay tiles on a steep roof, the tiles from one row must partially overlap those from the row below, all the way from the bottom to the top.
5. The price of roof coverings according to the material used
5.1. Clay tiles
In terms of budget level, clay tiles are mid-range. They are not too expensive and not all that cheap as well.
5.2. Sheet metal
Sheet metal roofing is more of an economy product, with a standard price of between NGN5,000 -NGN8,000/m2. The cheapest are corrugated and trapezoidal sheets.
5.3. Concrete
Concrete roof tiles are another economy level product when it comes to budget.
5.4. Polycarbonate sheets
Contrary to popular opinion, polycarbonate sheets are not so cheap.
5.5. Fibre-cement roofing
Fibre-cement roofing sheets are some of the cheapest on the market.
5.6. Wood shingles
Wood shingles are among the priciest of roof coverings because wood is an expensive material and are made mainly of larch, spruce, fir, cedar, oak, and chestnut.
Daibau community is helping you with cost estimates, tips, information and selection of the right contractor for your home